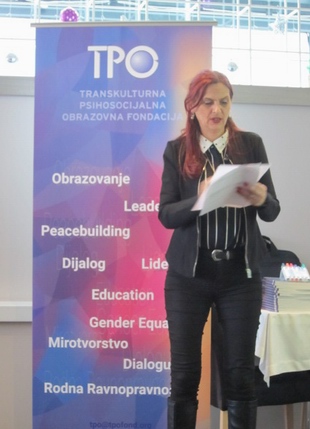 TPO Foundation has started a new cycle of anti-stress seminars after the successfully completing three-day seminars for stress management during 2017 as part of a three-year project "Peer and gender-based violence".
In partnership with Herzegovina-Neretva Ministry of Education, Science and Sport, pedagogues, psychologists, expert associates and representatives of the Education Institute, Pedagogy Institute and Herzegovina-Neretva Ministry of Education, Science and Sport attended the seminar in Mostar on January 3, 2018. Psychologist Amra Delić,  who created and led Stress Management seminars in 2017, moderated new seminars, which were also an opportunity to summarize the results from last year's activities on preventing and reducing stress that were organized in schools together with school staff, students and  parents. The goal of the seminar was to empower educators so that they could understand powers of stress and advance personal skills in order to manage and control stress and its consequences more successfully.
As part of the three-year project "Peer and gender-based violence" which is supported by Norwegian government, TPO Foundation has started new project activities planned for the project's second year.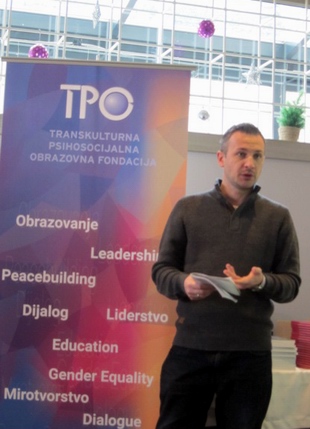 Anti-stress seminars are primarily intended for associates, pedagogues and psychologists from ten partner schools from Herzegovina-Neretva, Sarajevo and Central Bosnia cantons. Talking about private and professional experiences in stress coping, participants in Mostar had an opportunity to learn about new methods of recognizing and successfully handling different types of stress. Daily tasks which we perform in different capacities in private as well as in business environments often leave us stressed out. If we successfully define stressors, we get a better chance in further preventing and reducing stress and stressful situations. The seminars were supervised by Amra Delić, an employee at the Psychiatry and Physiotherapy Department of Greifswald University Hospital (Germany), a neuropsychiatry specialist with many years of experience in psych traumatology, social trauma, mental health prevention, prevention of violence against women, and a researcher at EU Marie Sklodowska Curie Action "Children born of war", while Monja Šuta-Hubert, a TPO Foundation project coordinator, spoke to the attendees and summarized the results of last year's successful activities and announced new and upcoming activities. One-day seminars on stress managements are also going to be organized in Sarajevo and Vitez.