Within the framework of the program "Gender-based violence – GBV", on November 25, 2017, at the premises of the Association "Dlan" in Zenica, the third planned parenting workshop for the mothers of children suffering from paralysis and hydrocephalus was successfully completed. With the aim of providing psychosocial support to mothers of ill children, prevention and reduction of discriminatory practices and forms of gender-based violence and raising awareness of BH societies about the difficulties that every family with disabled children encounters daily and their needs for a better life, TPO Foundation has realized a total of three workshops dedicated to mothers and their empowerment in working with children and everyday stress. In moderation of TPO associate, psychotherapist, Nermina Vehabović-Rudež, fifteen mothers had the opportunity to learn through the group therapies, educational materials and participatory exercises about the different roles they perform as the parent of a child with special needs. The aim of the workshop was also to strengthen them to deal with prejudices and stereotypes that are often related to a woman in families whose child is suffering from some of the illnesses.
After psychotherapeutic conversations, exchange of experiences, feelings, personal needs and difficulties faced by mothers of ill children on daily basis, as well as after the lessons on stress management, the third and last workshop was intended to encourage mothers to think about their successes which are surely many, but which they often ignore them and do not perceive them as personal accomplishments. The mothers managed to recall their own personal achievements that they acquired during the fulfillment of all responsibilities towards their child and family.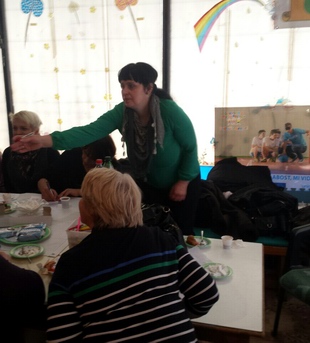 The aim of this exercise was self-training and recalling the personal value, courage and important role of the mother. The workshop ended with the evaluation of past workshops and the mothers emphasized the need to introduce such workshops as an integral program of associations because of their exceptional importance for psychosocial strengthening and work with mothers of ill children. These and other gender-based violence exercises have led to thinking and learning about preventive methods of all forms of gender-based violence to which all women are exposed, and in particular to marginalized groups of society. The mothers pointed out that these workshops helped to feel positive changes in their mood after the workshops and that they were mentally stronger.